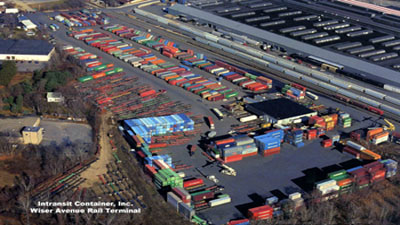 Intransit Container

Intransit Container (ICI) is New England's leading "double-stack" terminal operator and intermodal service provider. Routing international containers via "the port of Worcester" assures supply chain integrity while reducing overall costs. ICI provides direct daily double-stack rail service between West Coast ports and Worcester along with daily service to and from the Port of NY&NJ. The Corridor Rail Shuttle connects New England importers and exporters to the Port of NY&NJ, the largest East Coast port, allowing New England companies to effectively compete in global markets.
Intermodal Solutions

Much more than a rail terminal operator, Intransit Container is a fully integrated intermodal service provider. Augmenting rail services, ICI trucking is a premium quality, competitively priced trucking company serving all of New England along with the Ports of NY&NJ and Philadelphia. In addition, ICI operates a neutral chassis pool, a trans-load warehouse, a full service maintenance shop, a Foreign Trade Zone (FTZ) and a 365,000 sq. ft. public warehouse. ICI offers its customers a "one-stop shop" that doesn't compromise on service.